Class Zero Emission: free workshops on climate change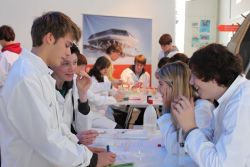 Students performing experiments during a workshop in the Clas Zero Emission space in Brussels.
© International Polar Foundation
The International Polar Foundation is currently holding interactive climate change workshops at our educational space 'Class Zero Emission' in Brussels. Reservations are now open for French and Dutch speaking Belgian classes, between the ages of 10 and 18, and to students studying to be teachers.
Under the guidance of a facilitator of GREEN, an organization that teaches young people to live sustainably, students discover the crucial role Polar Regions play in our climate and the impact that climate change taking place in these remote areas, have on us. Participants are also encouraged to put propose actions that they can take on an individual level in response to climate change. A wide range of activating teaching methods is used during this three hour animation: experiments, movies, quiz, 3D puzzles, pictures and discussions. A kit is available for teachers to pursue the activities later, in their own classrooms.