Cool science for kids at UK Class Zero Emission workshop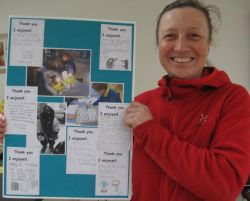 IPF UK Education Officer, Helen Turton, receives thank you card from students
© International Polar Foundation
Students as young as 3 years old have been learning about the Polar Regions and climate change at the mobile Class Zero Emission workshop, which has been touring the UK since January.
The workshop has allowed youngsters to get their hands on different parts of the Arctic and Antarctic using 3D puzzles to try and piece together these remote regions, and learn about the habitats and the ice. They also have to work out how to put on polar clothing to really get a feel for being a scientist at the ends of the earth.
The workshop, which is funded by the GDF Suez Foundation, has been delivered to schools in rural Derbyshire, Derby and Nottinghamshire, and at Oxford and Dundee Science Centres. Support for the workshop has been provided by Helen Turton, IPF UK Education Officer, who has travelled to both the North and South Pole and so really does know what she is talking about!
"Students don't usually associate science with such exciting locations and the workshop really helps them to see science in a true context" says Helen. Experiments look at the melting of the ice caps, the circulation of the oceans and the effects of ocean acidity caused by warmer temperatures.
Classroom teacher Katie Forster claimed "all the staff and children were blown away by the models and we loved using them." The whole school used the workshop and they organised a special coffee morning to explain what they had learned to their parents. They also presented Helen with a "Thank you" card, card which expressed how much they had enjoyed the various aspects of the workshop.
What the children said:
"I enjoyed looking at the land ice and the sea ice melting." Emily
"I enjoyed dressing up with the Antarctica clothing and finding out about what they wear." Felicity
"I enjoyed using all the equipment that came into school We did great experiments like sea level rising, albedo, blowing carbon dioxide into water, models, and when water warms up." Will B
"I enjoyed finding out about the Emperor Penguins and Antarctica. It was fun looking at the models and learning about how global warming could melt the ice in Antarctica." Tilly
"I enjoyed doing the palaeoclimatology chart." Thomas R.
"I enjoyed looking at the models of Antarctica and answering the questions around the outside of the models. And I enjoyed doing the palaeoclimatology." By Lauren S.
At Dundee Science Centre the workshop had over 2000 visitors. "The Polar workshop linked in very well with our Predator show which involves habitat loss and fragmentation including the extinction of the European Brown Bear." said Science Learning Officer Stuart Rogers, with students easily making the link to the threatened Polar Bear.
The workshop is available at other UK locations during 2013. See CZE UK project page for details.