Climate change and sustainable development: now is the time !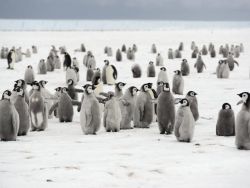 All ready to move forward towards sustainable development!
© International Polar Foundation / Alain Hubert
With the recent UN Sustainable Development Summit in New York and the upcoming 21st Session of the Conference of the Parties (COP) to the United Nations Framework Convention on Climate Change – the COP21 – in Paris starting in late November, this is a great time to talk about climate change and sustainable development.
How will you follow what's going on at your school ? What types of projects could you develop with your students?
There are many available teaching dossiers you could use in the classroom and a wide range of project possibilities. Here are a few ideas and links to useful resources.
Secondary schools students: become climate scientists!
Get your students to become real climate scientists as they carry-out experiments from the Class Zero Emission experiment booklet and learn about the key role the Polar Regions play in the Earth's climate system.
Learn about and discover the multiple impacts of climate change with an interactive approach using the Class Zero Emission multimedia animations.
Find out how you can reduce your greenhouse gas emissions at school and at home using our energy action sheets.
Primary schools students: become Sea Ice Ambassadors!
Follow Professor Sneeze's footpath and give your students an important mission to fight climate change and save the sea ice by becoming Sea Ice Ambassadors.
Follow what's happening on climate change
EducaPoles follows the news on climate change. Follow EducaPoles on Twitter !
Best wishes to all of you for this new school year!