Flat Stanley's Antarctic expedition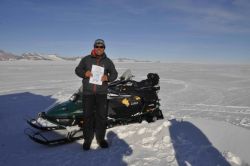 Flat Stanley rides a skidoo with Alain Hubert in the Sør Rondane Mountains.
© International Polar Foundation
Last February, the International Polar Foundation (IPF) received an e-mail from Auni, an 8 year old student in the United States. She was working on the Flat Stanley project in school and wanted to know if her Flat Stanley could travel to Antarctica.
Flat Stanley is the main character of a children's book. In the story, Stanley is flattened by a big bulletin board that falls from the wall while he is sleeping. As a result, he can travel around the world by being sent in an envelope. He can also travel by e-mail. This is a great way for him to discover many different places and share his experiences with everyone!
As each student creates his or her Flat Stanley and learns about the places he has been to, the project provides a great opportunity for the whole class to discover many new places around the world. For the project, Auni's Flat Stanley had already been on every continent except for Antarctica. She therefore sent her Flat Stanley to us by e-mail to Brussels (Belgium) and asked whether he could join a team in Antarctica.
Her request was very timely as an IPF team was in fact preparing an expedition to Antarctica.
Flat Stanley was able to travel to East Antarctica with the IPF team led by Alain Hubert. They have now come back and we have received pictures of his expedition to Novolazarevskaya station (Novo) and the Sør Rondane Mountains.
During the expedition, he discovered Novo and the environment around the Princess Elisabeth Station and met many people including a scientist from the Alfred Wegener institute, the pilots of the planes and people in charge of logistics. He was very busy! He experienced stormy weather, rode a skidoo with Alain Hubert and camped at Utsteinen! Have a look at the picture gallery of his expedition to learn more about his experience of Antarctica.